At the beginning of February, Sasol Germany welcomed the Norddeutscher Rundfunk (NDR) to its Brunsbuettel plant. Research is currently being carried out there on the development of a new generation of catalysts. Sasol will then test them at its site in South Africa, the largest Fischer Tropsch pilot plant in the world. This is because the new catalysts are expected to form the basis for an efficient and cost-effective production of green kerosene in the future.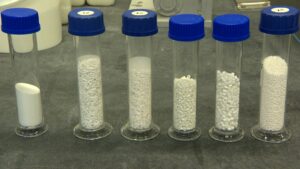 Dr Dirk Schär, Lead Technical Marketing Catalyst, Dr Angela Siegel, Manager R&D Shaped Carrier at Sasol Germany, and her team gave the NDR team an insight into the research work. In the process, they present various possible shapes of a catalyst and explain that these are crucial for efficient kerosene yield.
The entire NDR report on CARE-O-SENE research in Brunsbuettel can be found here.